Clever++ was born in the midst of the pandemic and from the start, we embraced remote working as being the norm. While this brings convenience for our staff and a better work-life balance, we understood that it could also make them feel disconnected, lonely, and unengaged with their teammates and managers. That's why one of our main focuses along the line has been finding exciting ways to bring our colleagues together to promote dialogue, engagement and building relationships.
If you want to find out more about our employee wellbeing program, please see our Careers page.
As our busy summer drew to an end, we planned to spend a few days filled with interesting activities specifically designed to enhance communication, happiness and morale among our colleagues, and why not, give us the chance to relax away from all the worries that life throws at us on a daily basis . We had a feeling that relationships will become stronger when sharing a hot jacuzzi with a glass of cold beer in your hand, but the truth is… it surpassed all our expectations.
We picked Baia Sprie as our base, not only because it is the birthplace of our CEO Tibi, but also because of its green surroundings. A quaint small mountain town, Baia Sprie is well known for its mining history, and is lined with beautiful buildings whose architecture give away the feel of a medieval burg.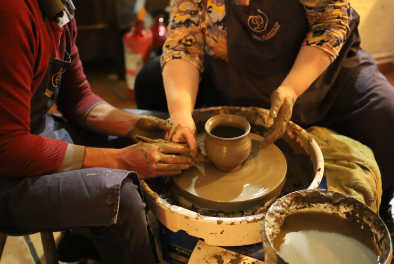 Although mining makes the centerpoint of any short stay, we however picked a different activity for the start of our event – a visit to Daniel Les Pottery House.
Daniel Les is a traditional potter and ceramist and his place oozes authenticity, inner peace and tranquility. In the first part of the event, we had the chance to witness amazing ancient techniques passed down from generation to generation.
But the most sought after experience was trying our hands at making pottery ourselves. As our jobs often involve a consistent dose of creativity, you can understand why this part was met with excitement.
It was the perfect chance to let our artistic juices flow and dream about mornings when we sip our coffees from the cups that we would craft.
Not only that we left the pottery house with some memories that we will cherish forever, but we came together as a team in an event that fostered creativity and left us with some beautiful pots that we created ourselves.
Baia Sprie is a gate to a wild region of rare beauty, and the next thing we did was a hike to the Blue Lake.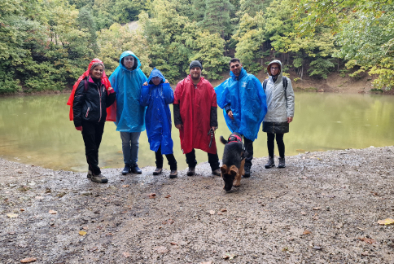 Armed with raincoats and accompanied by Athos, Tibi's german shepherd, the hike to the lake was both exhilarating and intense, because a light rain made the terrain a bit slippery.
But it was definitely a good team-work exercise, as we all helped each other to make it safely to the destination.
The sun that came out when we arrived plus the amazing view over the town, made it all worthwhile. Not to mention that when back, Tibi's dad waited for us with a strong palinka that heated us up and gave us a huge appetite.
Dinner was a mouth watering affair, with tasty pies cooked in-house by Tibi's mum, while the dad was skillfully manning the barbeque.
We celebrated our colleague Flo's birthday, and after a feast worthy of a king's belly, we headed to our rustic accommodation to get a good night's sleep before the second day's event.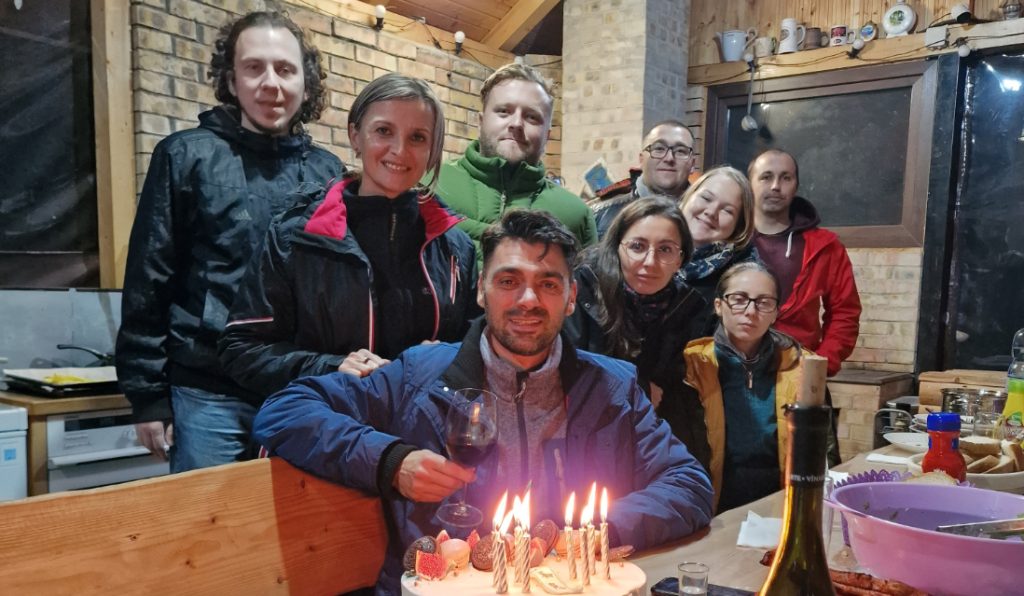 Early in the morning, armed with baskets and properly equipped for a few hours hiking in the forests, we set out for our second event – picking up wild mushrooms, followed by a specialist presentation about edible and poisonous mushrooms.  
Foraging for and cooking wild mushrooms is a favorite pastime in the mountain-lovers community, and the event was met with a lot of interest from our colleagues.
Red, yellow, white, brown… a plethora of colours unfolded in front of us as we delved deep in the forests. As we worked in groups, it was the perfect exercise to help us build relationships as we depended on each other to find our way easily.
We did not come back empty handed, instead, our baskets were filled with various mushrooms, each one more beautifully colored.
As we later learned from a specialist, not all of them were edible, so the next hour was spent taking in interesting information about which ones could be cooked and which one couldn't.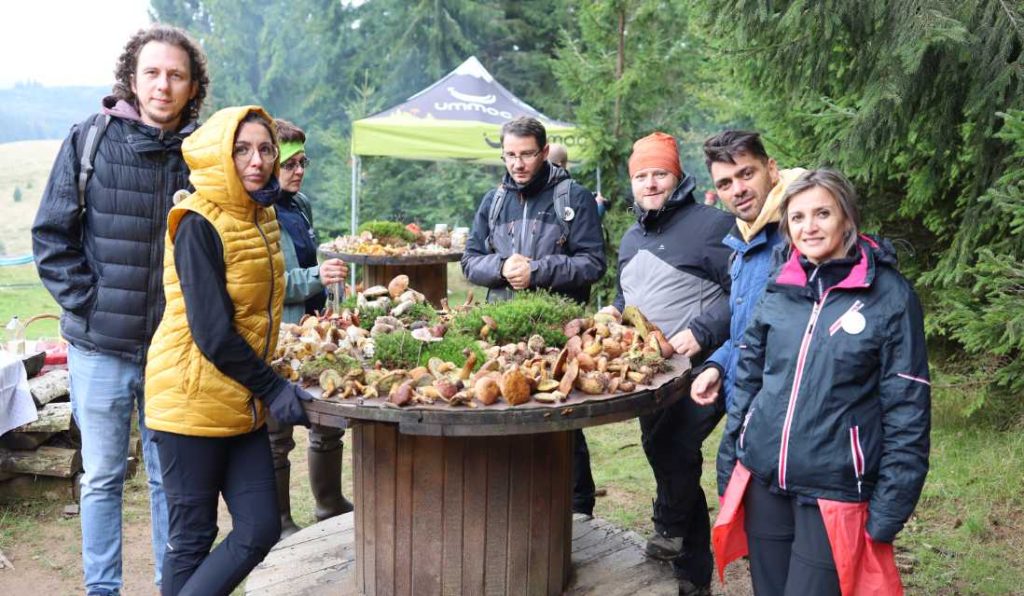 The event culminated with a delicious mushroom stew rustled up on an open fire in the wild. Might have been the cold mountain air that gave us a huge appetite, but my God, it was by far one of the most mouth-watering dishes we've tasted in a long time.
Another surprise was waiting for us when we returned to our accommodation – a hot steaming jacuzzi and a clear starry sky in the background – just the perfect remedy after a whole day spent hiking in the mountains.
With cold beers in hand and ideal weather, we spent the next four hours soaking up in the soothing water – the perfect chance to build bonds, network, and get to know each other on a deeper level.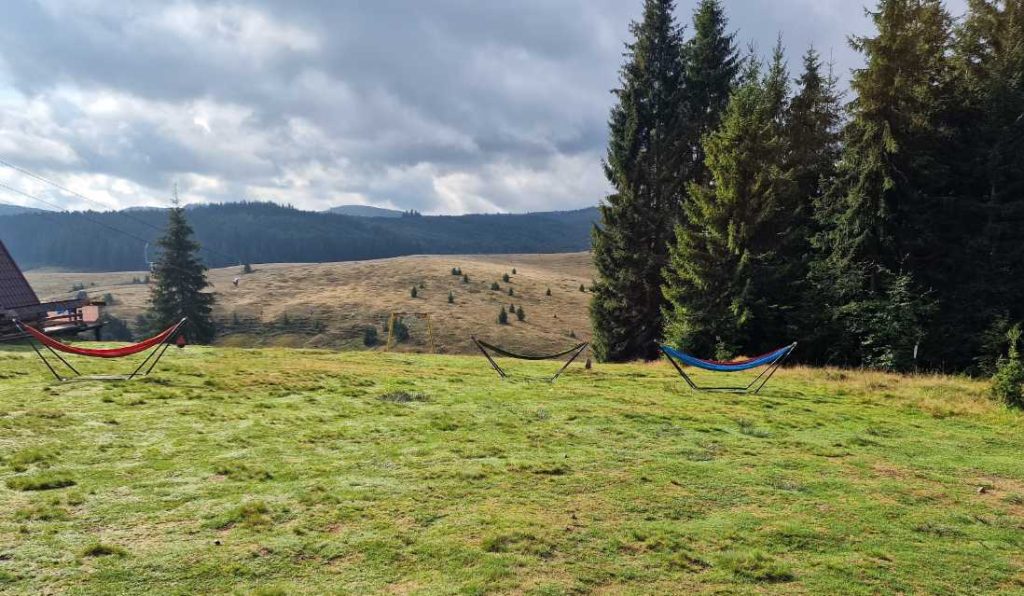 The next day, after a hearty breakfast and a few more hours spent socialising, we said our goodbyes and headed home with many beautiful memories to reminisce about.
The event was a success from many points of view. Not only that we helped our colleagues get to know each other better, build social networks, but as they were given the opportunity to take some time off and engage in exciting social activities, we helped them feel more relaxed, enjoy their time together, and why not, appreciate their work more knowing that they have somebody to lean on when they need it – the quintessence of being part of a tight-knit team.
If you want to know more about our open positions at Clever++, please visit our website.