A fresh cup of coffee steaming, the laptop fired up, a few yawns here and there until the first coffee sip is taken and the projects are discussed. That's how they start – our morning meetings. But one in particular was quite different. And it began with: "Guys, I have some exciting news: George is joining our team!"
If you want to find out more about our superstar team and the project they are involved in, please contact us
We've known George for a long time. We worked together, our paths crossed many times during Meet Magento conferences, and the chemistry was always present. Our encounter at Meet Magento Romania 2023 was no different, and when we talked about our latest eCommerce projects, we saw the interest sparkle in his eyes.
George is now our Chief Technology Officer and not only that our team can benefit from a vast expertise and impressive skill set, but as you will see from his answers, George brings in much needed values and his unique personality.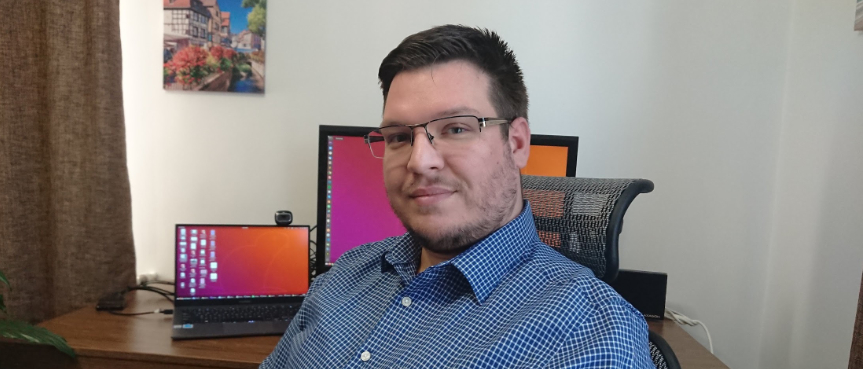 George, where did this love for IT come from?
My interest in science and technology began early in middle school. I was fascinated by everything related to Nature, Biology and especially Physics. I HAD to be involved in any school projects related to electronics or electrics, and of course, the weekends were spent breaking old devices to see how they work – if they worked anymore.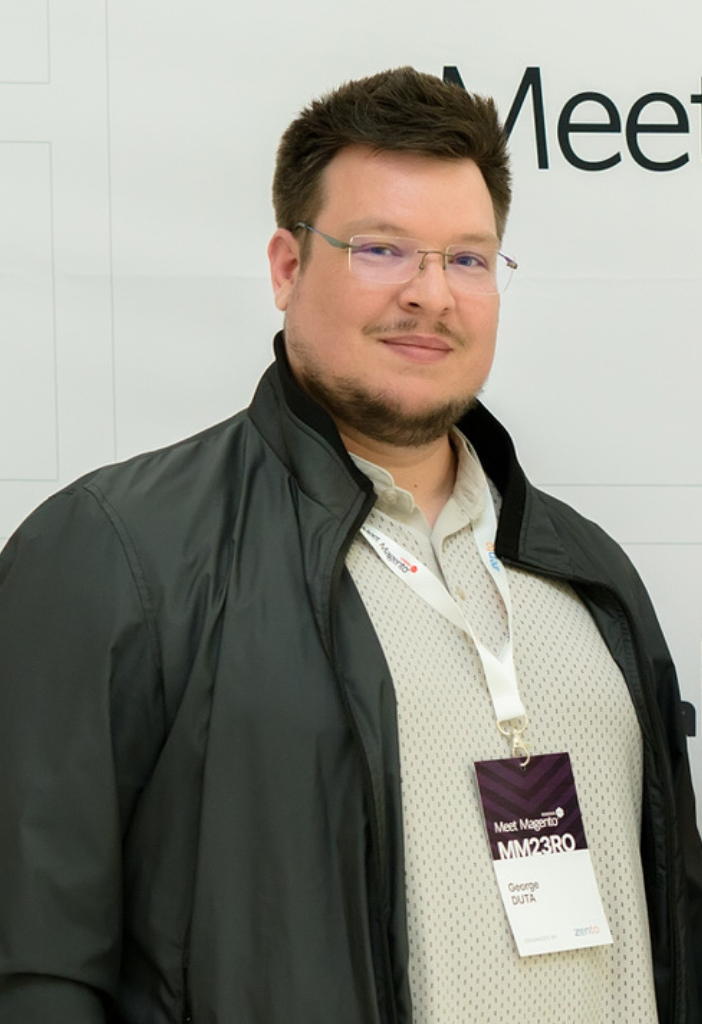 When my parents bought me an used HP computer – which nonetheless seemed pretty impressive to me at the time – of course, the poor thing did not escape my old habits. Playing games on it was never enough. I wanted to explore other software (back in the day we called them "programs") and as the Windows system files didn't dodge my curious mind too, I had to learn and reinstall the Windows Millennium OS for a couple of times if I wanted to further enjoy it.
From the first year of High school, I discovered IT software competitions which I attended every year. I realized that being involved in these competitions was something that offered the opportunity to learn more about IT technologies and software. It was also the turning point when I started to explore web technologies in depth. I fell in love with servers and databases and I was fascinated about web design (HTML & CSS) even though the technologies were quite new in that period, especially the web design area.
My efforts paid off and with my professor's guidance I managed to get to the top. I know that I'm bragging a little bit now, but I got 1'st place at the National Stage of the "Applied Informatics Contest" , two consecutive years, and the award for the best project.
Can you share some words about your university years and your first employment?
After those "glorious" years, I enrolled at "Petru Maior" University in Targu Mures where I attended the Automation and Applied Informatics courses of the Engineering faculty, followed by Computer Science courses. There is something I always advocate to young students: make the effort and take part in school competitions. Trying to achieve the best results for a project is similar to gaining valuable work experience in an IT company.
Fast forward a few years later, and my beginnings as an employee found me at Reea, a local IT company from Targu Mures where I had the opportunity to work on different kinds of technologies and projects during the 9 years period when I was employed with them.
Tell us a little bit about your Magento journey
Magento… My story is probably very similar to others'. A short time after I got employed at Reea I was introduced to the E-commerce world, and I liked it a lot! Magento wasn't the first ecommerce framework that I had contact with. I had worked with both xCart and OpenCart, but when I was asked to tackle a Magento 1 project, it all became interesting. Oh, Lord, those were nerve wracking times. The community wasn't that vast, and had to rely on my self teaching capabilities. Finally, I managed to tame the beast (I considered it a beast, who wouldn't?)  and after that the work was pure joy and very rewarding indeed. Along came the certification as a Magento 1 Developer, which was a great achievement.
At the release of Magento 2 in 2015 the excitement was high, because it's a totally different platform, much more complex. Soon, requests to work on Magento 2 projects came in, along with migration requests from M1 to M2. One thing I loved about my Magento journey was the fact that it was a continuous learning experience. With every version update, there is something new to keep our minds sharp.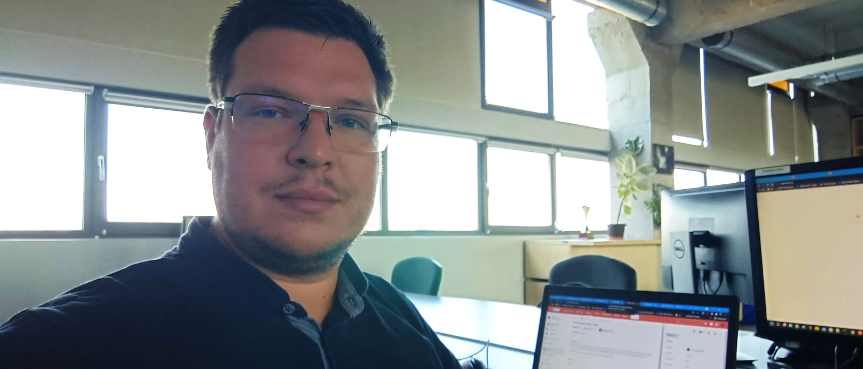 You and Clever++, how did your paths cross?
In 2020 I decided to move on from Reea. I wanted to see how other companies work, what technologies are using and wanted to learn new things from different challenges. That's how I met Tibi, Ana, Chiril and Flo. But after a couple of months, our paths separated until we met again two years later at the Meet Magento 2023 conference in Cluj Napoca. I never forgot how good it was to work together with them back in the day and when Tibi popped the question, I was up for the challenge. I happily accepted the role of CTO at Clever++ and my mission here is to use my knowledge and skills to identify and develop the company's technological strategy, bringing the latest concepts in the field and at the same time, help our team grow and evolve to the best potential.
Having a supportive team to collaborate with is incredibly important to me. We need to strive for mutual growth, since we form a second family due to the considerable amount of time we spend together daily. In addition, our portfolio is brimming with fantastic projects that will bring new and exciting challenges.
What is the project that marked your career in a positive way?
One of my favorite projects was a food delivery website, interconnected to multiple 3rd party services, mobile apps and operators. A few functionalities that the team implemented were a multi-vendor system with delivery zones definitions using Google Maps, a Central Dispatching service in the Magento Admin which was displaying the delivery persons location on an integrated Google Map in realtime and an advanced shipping cost calculator algorithm based on the defined delivery zones and other variables. Interesting detail – Flavius, our Senior Frontend Developer, had an integral role within that particular team.
Your superpower?
I always like to please people, and this extends well beyond my social life. Whether we are talking about my colleagues or our customers, I love the feeling of positiveness after I do everything in my power to solve an issue. One good deed can change the atmosphere in a team a lot, leading to better communication, creativity, and problem-solving capabilities. Not to mention that it brings the best in people.
Could you tell me about your life beyond your professional commitments? What leisure activities bring joy to your day?
Three things in particular: fishing, watching movies and travelling. Being in the great outdoors and close to nature help me a great deal, since my weekdays are pretty hectic.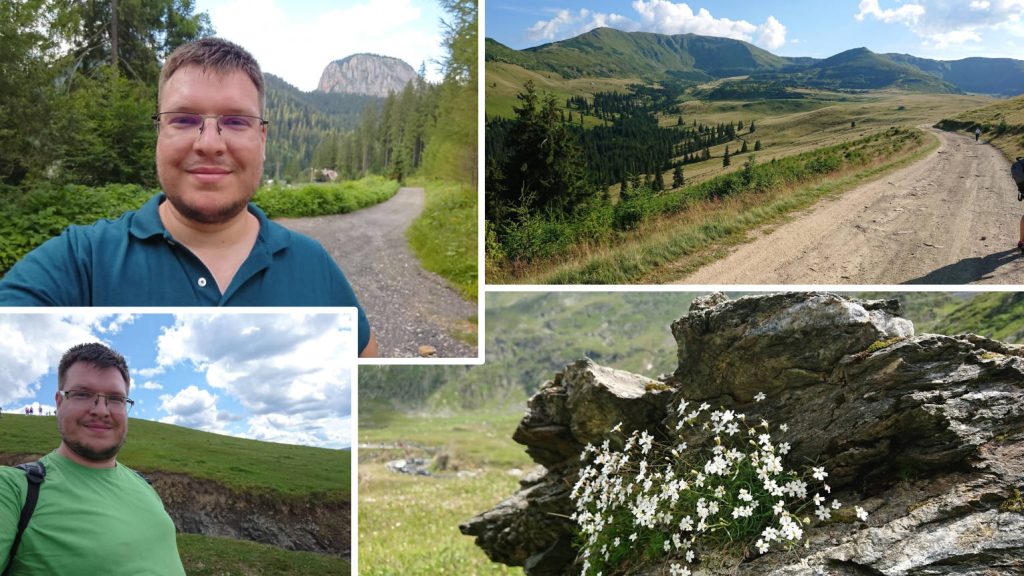 Since my two sons joined our family, I try to involve them as much as possible. Going fishing with them provides a great opportunity for quality family time and shared experiences.
I am also an avid cinephile, but lately, my list tends to be filled with family movies.
Weekends catch me exploring the great outdoors. Hiking up a hill, or simply walking, they always bring a smile on my face. Especially if there's a river nearby, where I can throw in my fish bait.

Beyond all that, I'm quite a cheerful and outgoing person who never passes up an opportunity to enjoy a delicious barbecue with loved ones and friends.
If you want to know more about our team and job opportunities, please visit our careers page.