As a company that embraces remote and hybrid working, for us, the benefits of this style of work far outweigh the drawbacks. But we are aware that while this brings convenience, it also makes it easier to slip into a sedentary lifestyle. When your commute is from your bedroom to your home office or living room, it is easy to get stuck indoors all day staring at your laptop. Therefore, we came up with an interesting article explaining why spending time in nature will do wonders to your wellbeing, and what activities you should try to get the most out of it.
If you want to find out more about our employee wellbeing program, please see our Careers page.
Remote working comes with a better work-life balance, and we are for sure part of a huge crowd that does not miss the long hours stuck in traffic. Darn, I even remember ladies putting on make-up while waiting at the traffic light. A funny sight, for sure, but that showed how much time we wasted when we could spend it doing more of the things we loved. So, instead of listening to car horns and engine revs, we feel that there is no better way to fill your well-earned spare time than getting outside, embracing the crisp autumn air and appreciating the colorful foliage!
Time spent in nature is connected to cognitive and mental health gains, as well as improvements in mood and emotional well-being. It will increase your feelings of calmness, your endorphin levels will soar, which in turn will help you display a happy face, your concentration and attention will be restored. Not to mention that being in the midst of nature will quickly help you dissipate any feelings of irritability or depression and will lower your blood pressure and keep your stress hormones at bay.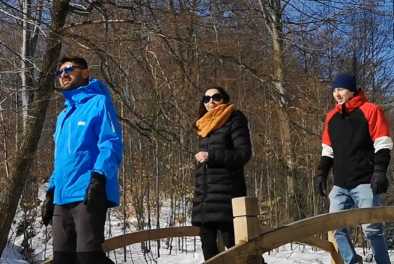 Walking in places rich in vegetation improves your vitality and it definitely helps you have more zest in your life. The sounds and smells of a lush forest can work magic to your spirit, even if life's worries overcome you. Just think about the first days of spring, when all the foliage starts to turn green. There is a special feeling in the air that puts an end to even the most upsetting thoughts.
Exposure to plants will boost your immunity. The culprit for this are the phytoncides, the airborne chemicals that plants emit to protect themselves from rotting and from insects, and which also seem to benefit humans.
The mighty sun will work magic to your health. When sunlight hits the skin, it begins a process that leads to the creation and activation of vitamin D, which in turn lowers the risk of various medical conditions. Not to mention that it will also put a big smile on your face, making you feel happier in an instant.
Now that we established that walking outdoors is beneficial – who would have doubted that ? – let's try to find ways to get the most out of it. First of all, nature is a stress antidote only if you are able to properly relax and enjoy it. That's why you have to find a place that feels safe. With ecosystems being disrupted by ever expanding urban areas, and with food supplies being more and more scarce, many wild animals choose to leave their whereabouts and venture in populated areas. So, make sure that the place is safe, and just embrace the experience.
Try to maximize every minute. Take deep breaths, feel the fresh air, pause to listen to the sounds around you. Simply be present. Many times, life's worries will still come flooding in your head, so try to do a few relaxation exercises. Focus on your breath, taking long, slow, deep breaths, try some yoga, tai chi, and qigong, or, if it fits you, repeat a prayer a few times. Remember, it's all about what makes you feel good.
While simple walks in the woods are good for some, the more active others might find it appealing to move their workout outdoors. So, why not mix workouts and relaxation and forget about your treadmill? Get outside and run a few miles surrounded by natural green, and you will definitely feel a different person.
Shinrin-yoku or the practice of Forest Bathing
A long-time practice in Japan, now it's more suitable than ever to start doing it, especially because it is a well known antidote for tech burnout. The good thing about it is that all you have to do is immerse yourself in nature, engaging with everything that the area provides you. But there is a catch… always try to acknowledge and embrace the uniqueness of the space you are in, focusing on finding unique smells, sounds, endemic plants or animals!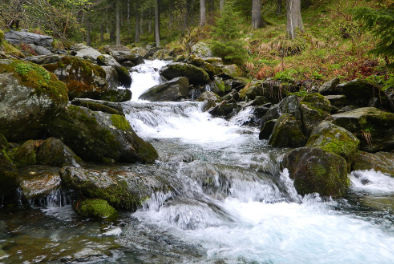 Spending time in nature brings a feeling of serenity, peace and calm, but you can take it to the next level by trying some meditation techniques. Studies have shown that being in nature produces brain waves that enhance the meditating experience. So, next time you are in the forest, why not try and take the lotus position, choose a mantra and repeat it until your mind liberates itself from all daily worries. As a mantra, you may use any phrase you like. Many use words like 'Peace' or 'Love'. Or you may wish to use the 'So Hum' Sanskrit mantra, which translates to 'I am.' Being a foreign word, it's much more suitable because i doesn't bring up any associated thoughts.
Embrace your creative side
It's not a secret that the constant distractions of modern life are a big threat to our creativity and nature could be exactly the one that offers the right stimulation. So, next time you plan a walk, take a few crayons and try to capture all the amazing things that you see.
Stitching also proves to be very relaxing and trying your hand at embroidery while playing with different designs, shapes and colors will definitely help you feel a different person.
While we all acknowledge that nature walks are helpful, we also have to be aware that if we don't establish a routine, all these will remain just simple wishful thoughts in our to-do list.
If you are one of these people that don't always overly organize their days, it is best to try and find a way to remind you of such activities. Simply set an alarm on your phone or block time on your calendar. Others find it easier to establish a morning or evening walking routine. If it fits, you can do it during your lunch break. Just remember that your physical wellness is a foundational element of your success.
Ultimately, this time is for you. Gaze at the vast sky, take in the greens of the trees, listen to the relaxing tranquil water of a stream, hear the birds singing or seagulls calling, feel the breeze through the trees, or the sound of waves breaking on the shore. We are absolutely sure that every one of them will make you come back home a better, more relaxed, happier person.
If you want to know more about our employee benefits at Clever++, please visit our website.