It's been a few good months since we talked about our interesting projects, so we thought that it would be a good time to bring the subject up. The first quarter of the year is always an important period for our clients. Add to that an extremely charged up Easter sales event, and you will see why our time at Clever++ has been restless, too.
Our long-time clients benefitted from our constant support, but we started a few very interesting projects that are truly worth talking about.
If you want to find out more about our eCommerce projects, we are here to help.
Our long-time clients
Cupio
As always, Cupio's extensive platform required our full-time attention. With many 3rd party integrations, including an external ERP which centralizes all information from the physical stores, and a complex website with both B2C and B2B sections, the Clever++ team has been kept fully engaged in running the online shop as smoothly as possible.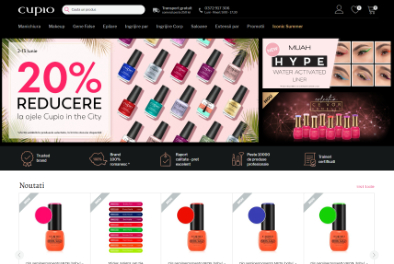 But over the past few months, aside from the daily support, the Clever++ team has been working on two extremely interesting tasks.
As many of their customers are shopping with intent already knowing what they want to buy, Cupio understood that an effective site search functionality is a vital component for their successful eCommerce website. So, our clients required an upgrade to their Search function.
The new solution based on Elasticsearch is super fast and significantly improves the relevance of search results, but it also presents some features that were missing with the old implemented option: it corrects typing errors automatically, it completes the text automatically, it works well with long-tail keywords and is highly responsive on every device.
Therefore, the task has been planned intensively over the last few months and now it's in its last stages of implementation.
The second task consisted in full integration of the website with Aqurate.ai , an extremely powerful platform which, apart from very accurate reports to support the ones offered by Google Analytics, provides upselling, cross-selling and related product suggestions generated by AI.
The platform connects to Google Analytics, but also directly to the Cupio database with RestAPI. The Clever++ team has developed a module which reads the data gathered by Aqurate.ai. The module replaces the native Related Products and Upsells widgets from the Magento product pages, and instead shows products generated by the info supplied through the Aqurate API. Additionally, the Cross-sell products from the cart are replaced by items supplied by Aqurate's API.
Thus, the displayed information will be highly personalised according to each client's shopping behaviour, with an increased impact on the conversion rate.
With the implementation of this task finalised, Cupio is slowly entering the complex world of AI and machine learning to offer their customers an enhanced shopping experience.
Sneak peak: we know it's a bit too soon to talk about it, as it's in early stages, but Cupio entrusted us to design and create a new custom theme for their blog site. Of course, we will write about this in detail in a few months, but we're really too excited not to brag a little bit about it.
Super Farm Land
Our long-standing collaboration with Super Farm Land carried on, and by offering constant technical support, the Clever++ team made sure that the online store stayed in excellent condition. There is also extensive planning going on, and our team is preparing all the feats necessary to install the latest version of Magento.
Tini Mini Toys
Tini Mini Toys had a busy first quarter and with high sales during Easter time, the online shop called for our regular daily support. The web shop will also get an upgrade this month and all the preparation will definitely keep our team on their toes.
OWLRO
OWLRO, our heart-warming project and donation for a practice that deals with children and adolescents with socio-emotional difficulties continued and we provided continuous support to ensure that their small online shop runs as required.
We always love to talk about eCommerce so if you need information about our products and services, we are here to help.
Our new projects
Slei.ro
Slei.ro is a Romanian online store featuring a wide range of products, from fashion and cosmetics products, to personal care, children and baby products and many more. Their products are shipped quickly, in safe conditions and customers can verify the package upon receipt.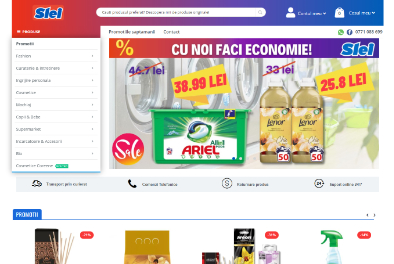 The clients requested a modern, fast and clean platform, where products are presented with detailed information, and the payment options are flexible and secure.
The online shop was running on a Magento 2.1 version and the Clever++ team upgraded it to version 2.4.4. The differences in code and database were consistent and to avoid generating all sorts of junk code and data, we chose not to use the usual way, through Composer. Instead, the Clever++ team kept the old database and installed a clean Magento, then linked to the old database and ran a deployment this way.
No small feat indeed, as we had to adapt all the custom modules, but also the theme. All are now compatible with the latest version of Magento running on PHP 8.1.
As we were the only agency who responded to this request, the positive feedback received from the client was rewarding which of course made our team pretty chuffed about the whole project.
Zestre Gallery
Zestre Gallery whet our appetite for interesting projects from day one. The platform plans to be more than an online marketplace for contemporary art, and with the ability to manage 2 types of accounts for both sellers and buyers, it features a multitude of details that make it a cross between a complex online selling tool fit for modern eCommerce and a personal intermediary between artists and buyers.
The platform will manage sales, but the people behind it will oversee the relationship with the customer, take care of the logistics after placing an order and keep in touch with both parties to complete the sale as soon as possible and without problems. They will also advise the Artist/seller on what products would be suitable to be displayed on the website, and will provide feedback on pricing policies.
Of course, such a complex idea required a complex solution and Magento fitted the picture just fine. Therefore, the latest 2.4.4 version was chosen and all the features will be customly implemented.
The marketplace will also benefit from a special design which highlights the artworks. Thanks to Magento's capacities, users will find an advanced reporting system in their sellers dashboard. At the same time, its SEO capabilities ensure that it will have good visibility on search engines.
Jolly
Founded in 1992, Jolly became one of the most important players in sanitary ware and bathroom furniture retail. Representing well-known brands like Villeroy & Boch, Hatria or Kludi, Jolly was also the first Romanian company to receive import rights from the Swiss concern Geberit.
Jolly runs a custom PHP built solution, and if at the beginning it seemed like the right decision for the company, with time, the lack of flexibility when it comes to adding complex features meant that it simply became unsuited for modern online retail.
The discovery phase is well under way, and there is extensive planning going on to migrate to the latest version of Magento and enhance it with some of the best extensions needed for present-day eCommerce.
Allbrushes
Allbrushes is a UK startup selling makeup brushes. Initially operating on a custom PHP solution which was not in line with the requirements of modern eCommerce, Allbrushes approached our team to develop a simple yet efficient online store. The size of the business made us recommend Shopify as the most suitable platform, which our team customized to fit their image perfectly.
The project was special to us because with online retail growing at a constant speed, and with many startups wanting to expose their products online directly to end consumers, we see the development of simple PaaS options like Shopify as an opportunity to diversify our services offering.
La Casa
Starting as a traditional bakery, La Casa became one of the best known names in Transilvania's restaurant and food delivery scene, hence we are so proud to count them among our new clients.
Over the years, their product offering grew constantly, and the channels to reach their customers diversified. Built on Magento 2, the online shop is complex and includes many 3PT integrations, such as an external ERP, which centralizes all information from the physical stores.
The project is in its incipient stages with the Clever++ team currently working to analyse and solve errors in Magento log files. There is also extensive planning to migrate the platform to the latest Magento version.
If you want to know more about our list of services at Clever++, please visit our website.